DASHBOARDS
Dashboards are containers (folders) for Report Visuals and there are many different styles of Dashboard containers. In order to view any Report Visuals (bar, line, pie, table, etc.) you must choose an App Dashboard and create a Dashboard Group.
Overview
The following illustrations visually summarize the four main steps involved in setting up a Dashboard:
1. Design a Report Visual
2. Choose an App Dashboard layout for the Report Visual(s)
3. Create a Dashboard Group and link the App Dashboard to it
4. Create Filters and add them to the App Dashboard
Summary: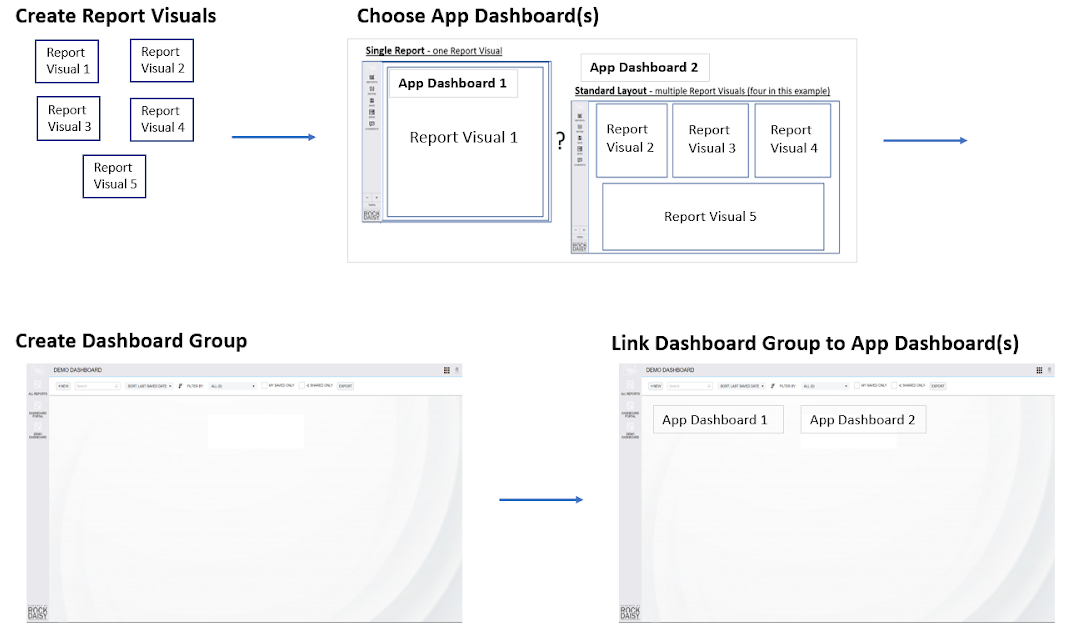 Step by Step detail:
1. Design a Report Visual

2. Choose the desired App Dashboard Layout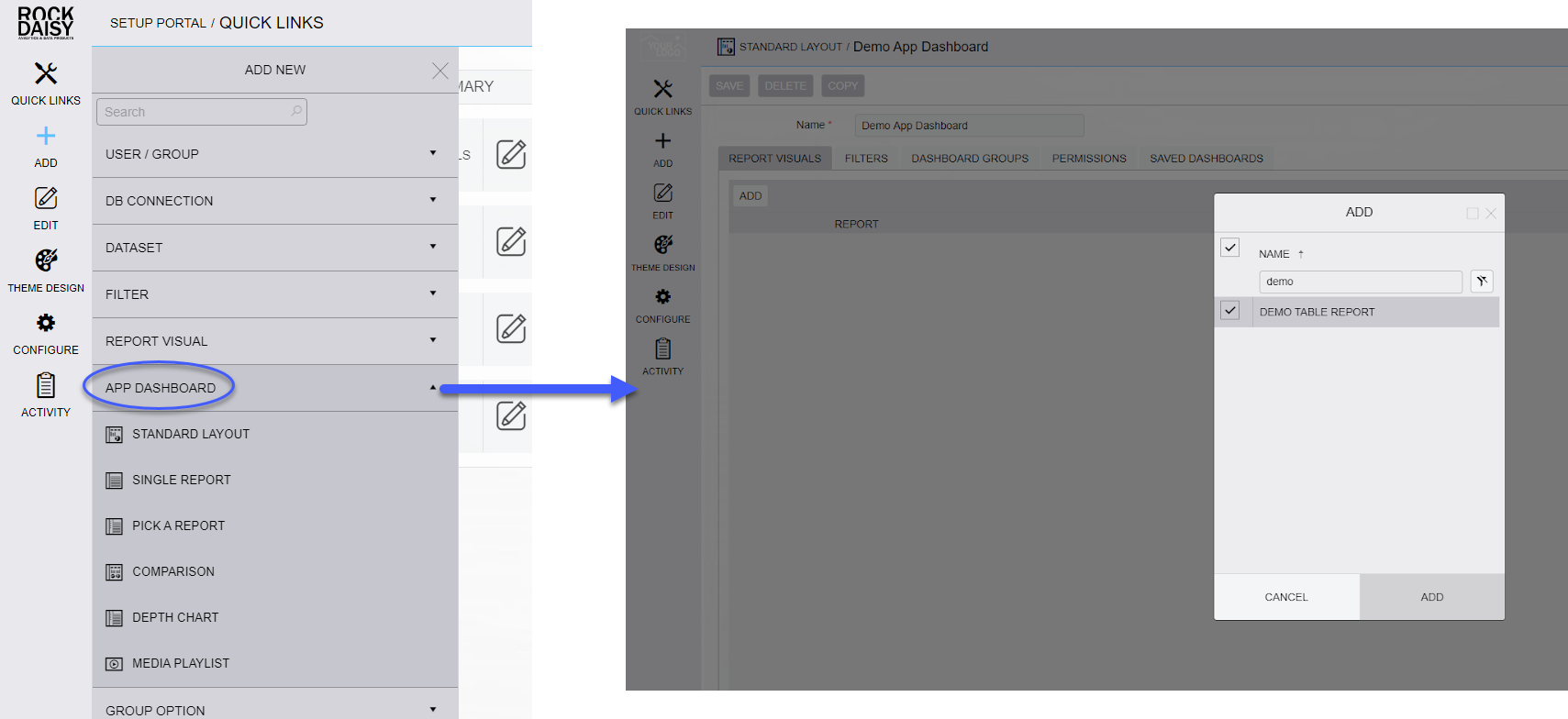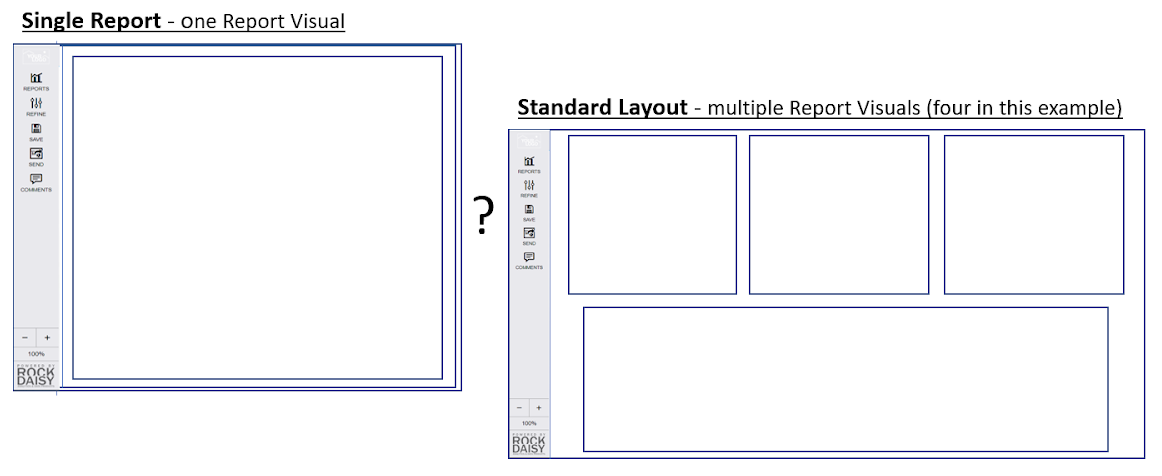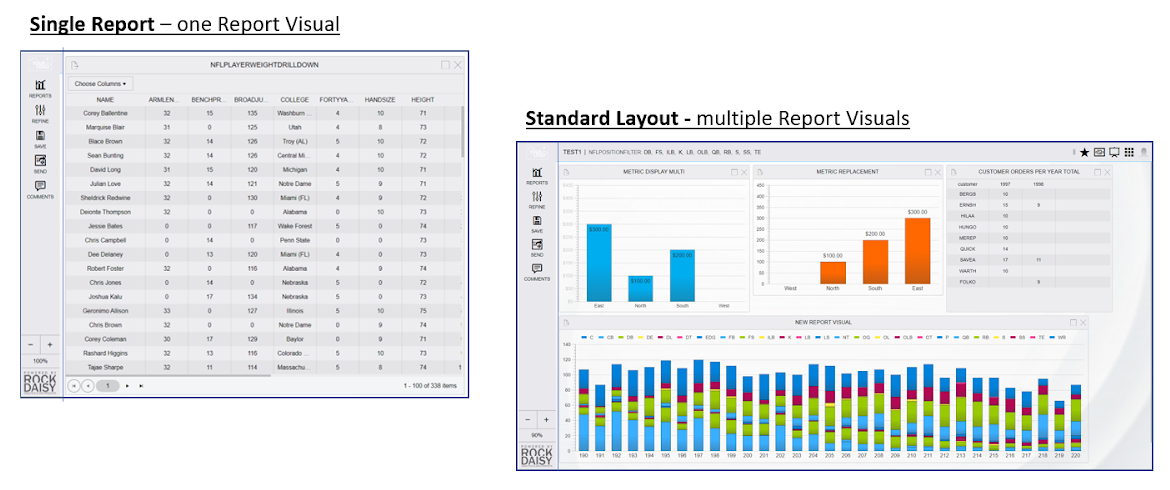 3. Create a Dashboard Group, i.e. folder, and then link to the according App Dashboard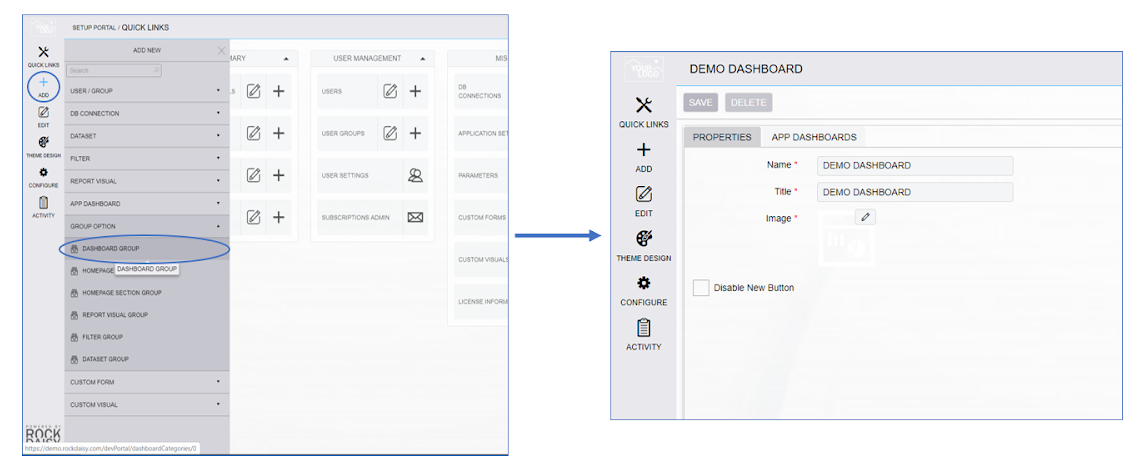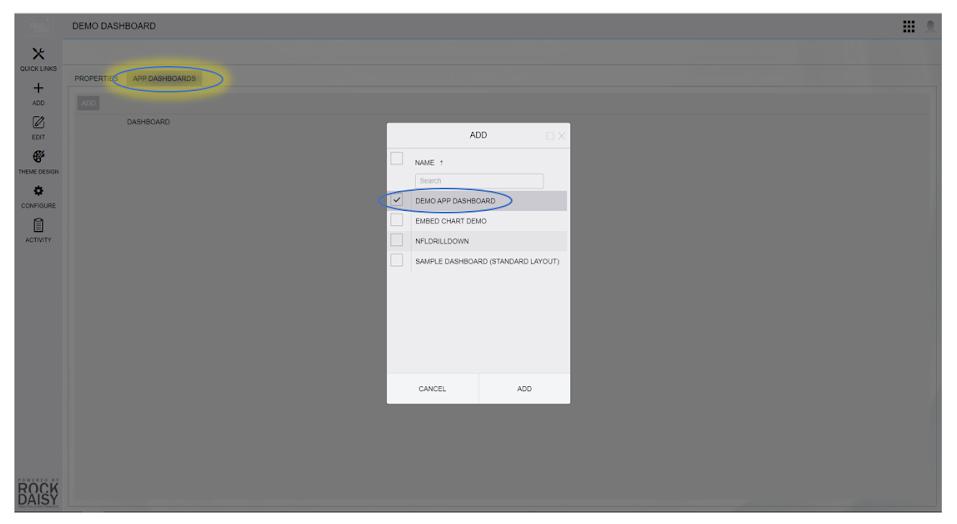 4. Creating Filters and adding to the App Dashboard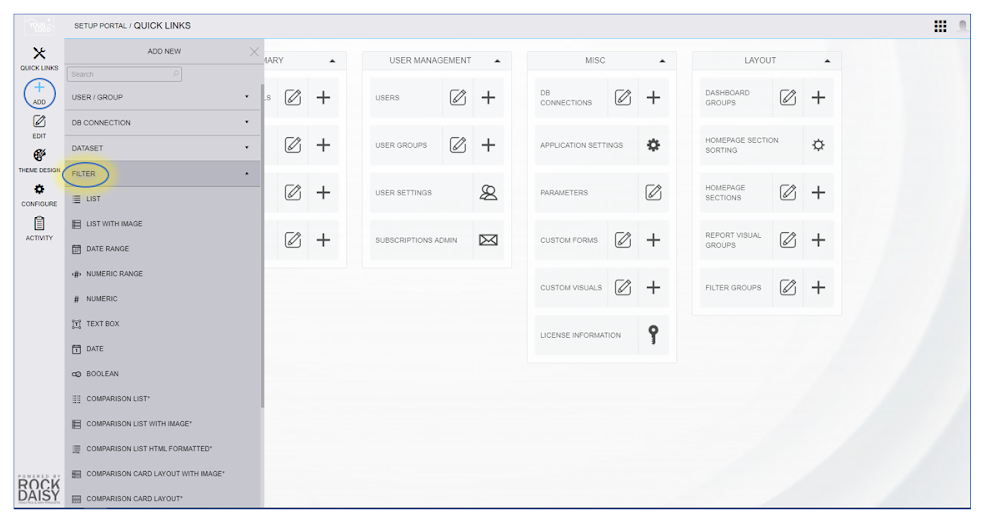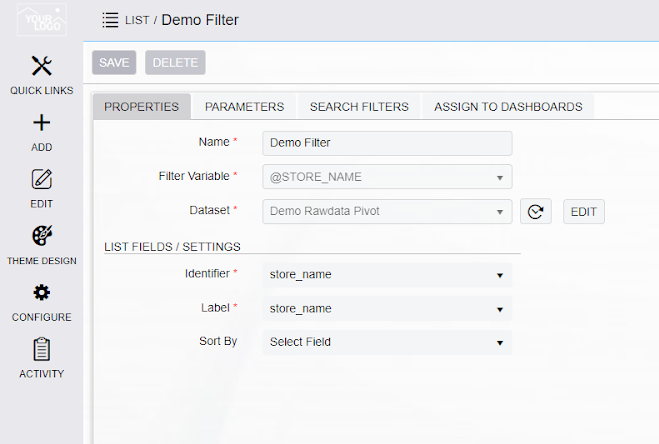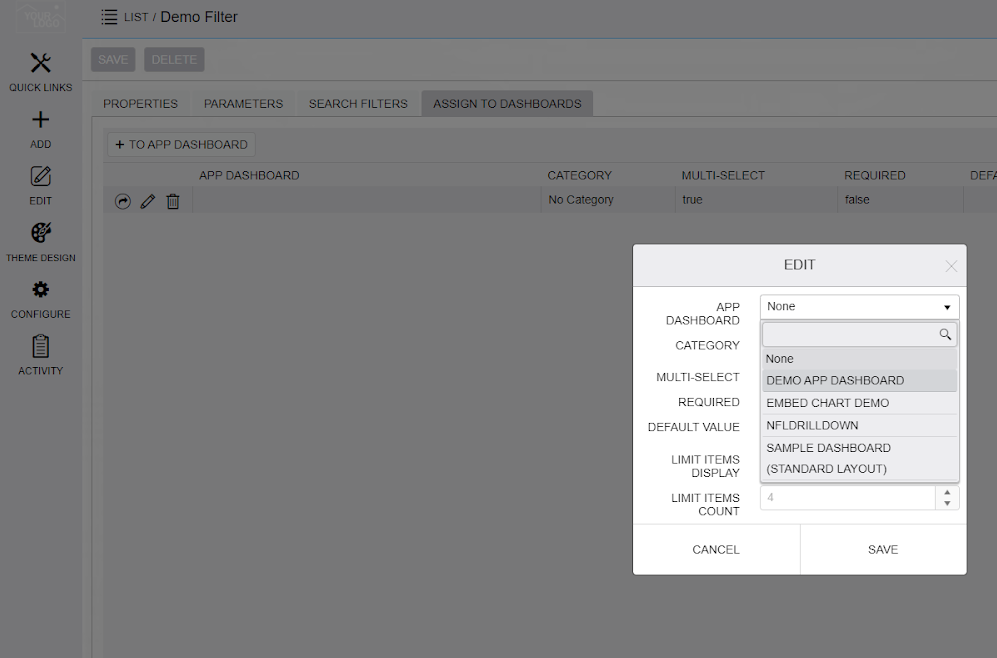 App Dashboards
Each App Dashboard option dictates how Report Visuals are visually displayed, with each App Dashboard providing a layout of either single (e.g. Table) or multiple Report Visuals (e.g. Table and Bar Chart).
The most frequently used App Dashboards is one of the following two options:
| | | |
| --- | --- | --- |
| APP DASHBOARD | Format | Example |
| Standard Layout | Multiple Report Visuals | Displays a Table and Pie Chart |
| Single Report | Single Report Visual | One full screen data Table |
ADD an App Dashboard
Choose +ADD then [APP DASHBOARD] -> Select the desired layout option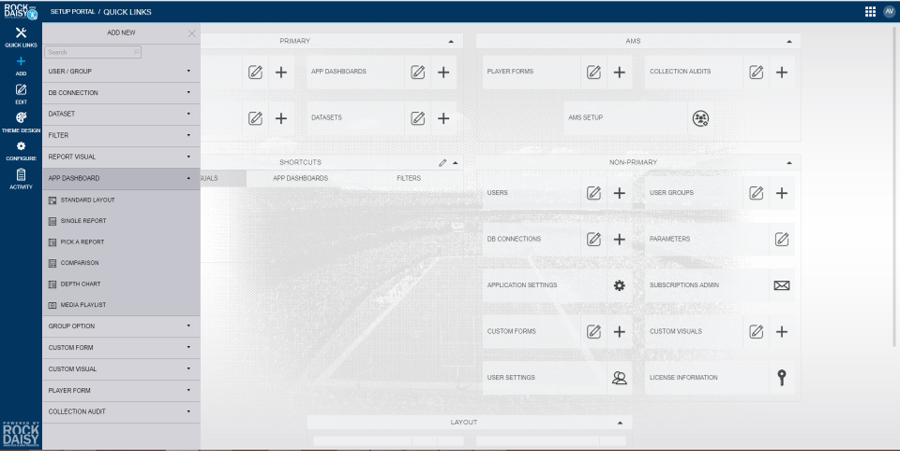 After choosing an App Dashboard, the below five tabs will appear: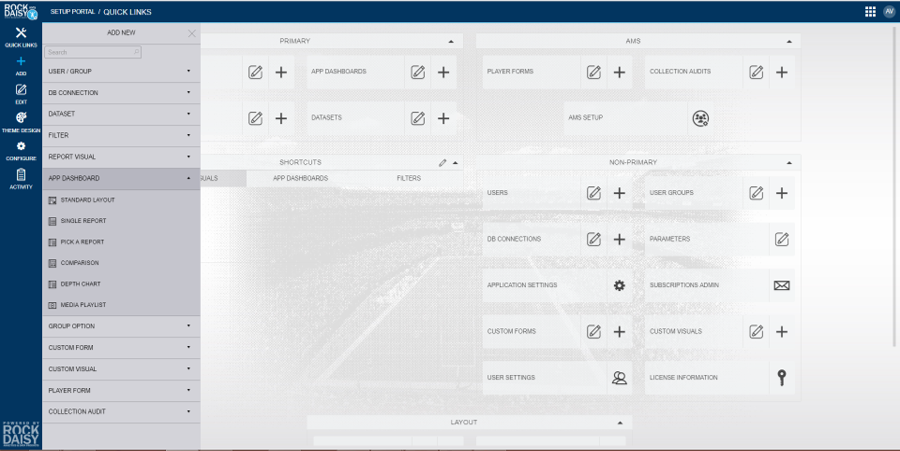 (The first two tabs, [REPORT VISUALS] and [FILTERS], are relevant in other steps, as referenced above in Report Visuals and below in Filters.)
App Dashboards and Dashboard Groups
Every App Dashboard needs to be stored within a Dashboard Group.
Within the App Dashboard Edit options, select the third tab – DASHBOARD GROUPS.  A preexisting Dashboard Group will already appear in this tab – called 'DASHBOARDS' – because all App Dashboards are automatically added to that [DASHBOARDS] group.  To create a Dashboard Group of your own, see below.
Assign the App Dashboard to a Dashboard Group:
Choose [EDIT] -> [APP DASHBOARDS] -> Choose APP DASHBOARD -> [DASHBOARD GROUPS] tab -> click the 'ADD' button and select from the list. You must already have created Dashboard Groups to see them in the list.  Choose the Dashboard Group(s) that you wish to assign your App Dashboard to and click ADD.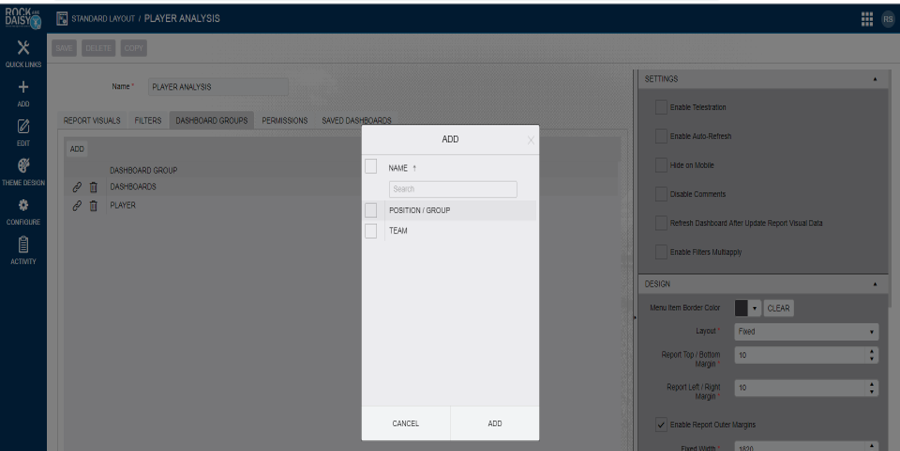 Dashboard Groups
Dashboard Groups gather related App Dashboards into one group, functioning as main folders.
Adding a Dashboard Group
Open the Setup Portal (found in the top right corner cubes dropdown button)
On the left side select [+ADD] then GROUP OPTION -> [DASHBOARD GROUP]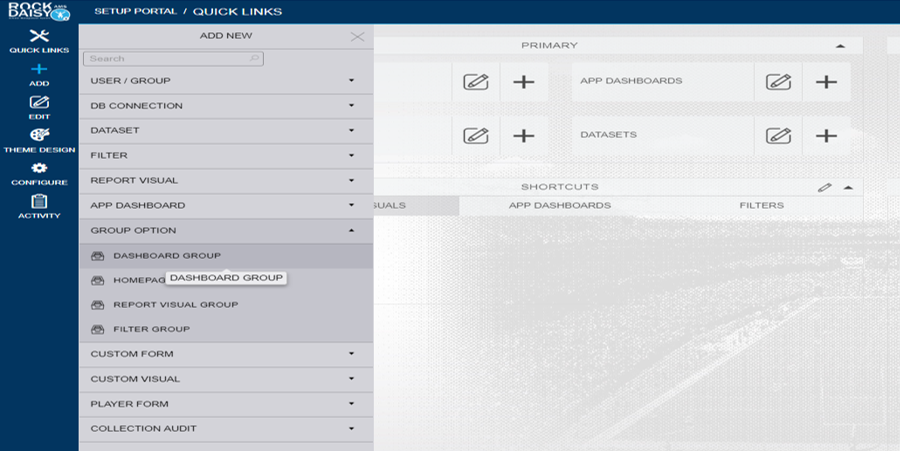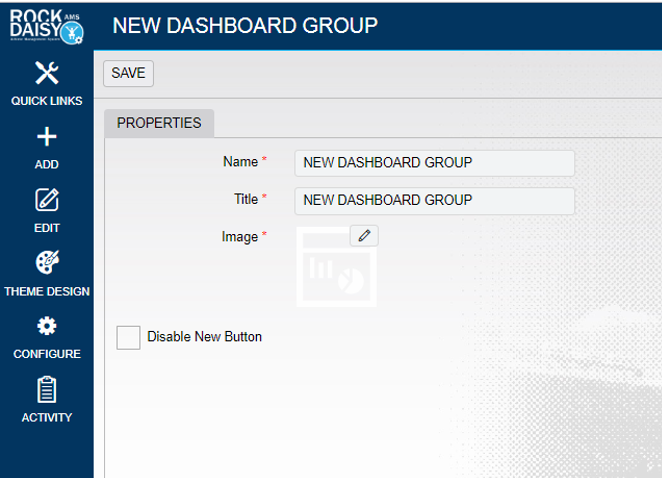 Name – Displayed internally
Title – Displayed to the end user
Image – The icon appearing in the Dashboard homepage
Click 'SAVE' in the top left corner when done.
Any one Dashboard Group can house multiple App Dashboards which contain various Report Visuals (as explained below), for example:
| | | |
| --- | --- | --- |
| Dashboard Group | App Dashboard | Report Visual(s) |
| Product Sales | Single Report | Top 10 Product Sales (Table) |
| Product Sales | Standard Layout | Bottom 10 Product Sales (Table, Bar, Pie Chart) |
One Dashboard Group can have multiple App Dashboards. App Dashboards contain one more Report Visuals.

Slideshow Mode
RockDaisy Slideshow is a collection of Dashboards arranged in sequence. Unlike a PowerPoint presentation, RockDaisy Slideshow is fully interactive and ideal for presenting to a larger group.  This means a presenter can interact with the reports by clicking, drilling down, and filtering.
Any user can create a slideshow by clicking the [Slideshow] button and then choosing from existing reports. These reports will always display the most recently updated information, as they connect back to the database on refresh.
Slideshows can be clicked thru manually or configured to auto-play.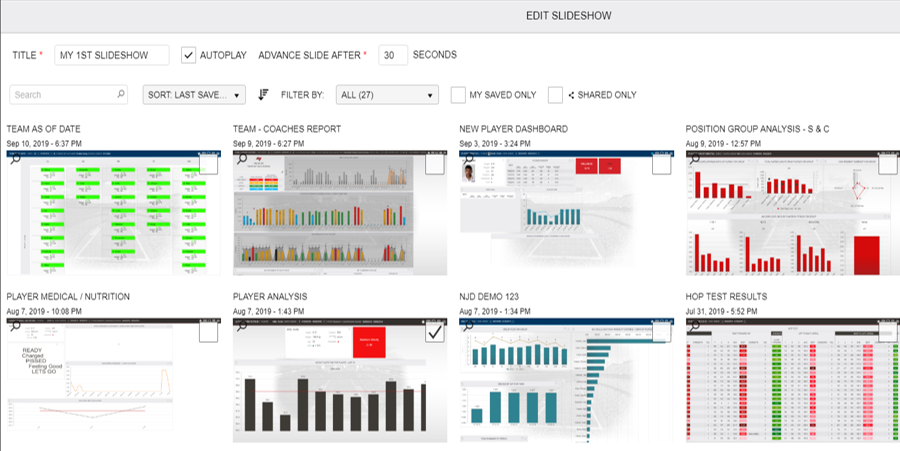 To create a Slideshow:
Navigate to any Dashboard and click the Slideshow icon on top right side of screen

Add any number of reports to your Slideshow